PRESS RELEASE – Ojeda finds a triple treat in Sydney
Jayden Ojeda has proven himself the most dominant Formula 4 driver ever of the Australian Championship by clean sweeping another round to take his total race win haul to twelve races in a season.
The Sydney-sider took advantage of his home track knowledge to steer to the front of every race despite not qualifying first in any of the races.
"We had a great weekend with three wins and clean sweeping the round. Ryan had a lot of pace but it was just a bit unfortunate the first two races, he made it a second that final race which is a great result for AGI Sport with a 1-2 finish," Jayden said.
Team mate Ryan Suhle topped both practice sessions and secured pole positions in Races One and Three but found himself fighting for every single championship point with two amazing drives through the field.
In Race One an unlucky over-rev at start saw the car hit limp mode, by the time Ryan restarted he was at the back of the ten-car pack but a blistering drive saw Ryan pick off rivals one-by-one to finish third with some handy points.
Starting third in the reverse grid Race Two Ryan got off to a good start only to run into trouble in the first lap.
"Coming through Corporate Hill just sort of had to have a bit of a crack and got a bit of aero wash on the front wing and it was my fault," Ryan explained.
"Just sort of come onto the throttle a bit too much with the wash a little bit too hard for cold tyres."
"You know you've got to have a bit of a go if you want to be fast on cold tyres and unfortunately just dropped a wheel of on the worst place to drop a wheel off on this track and just spun me around and sent me backwards down towards the hairpin," Ryan explained.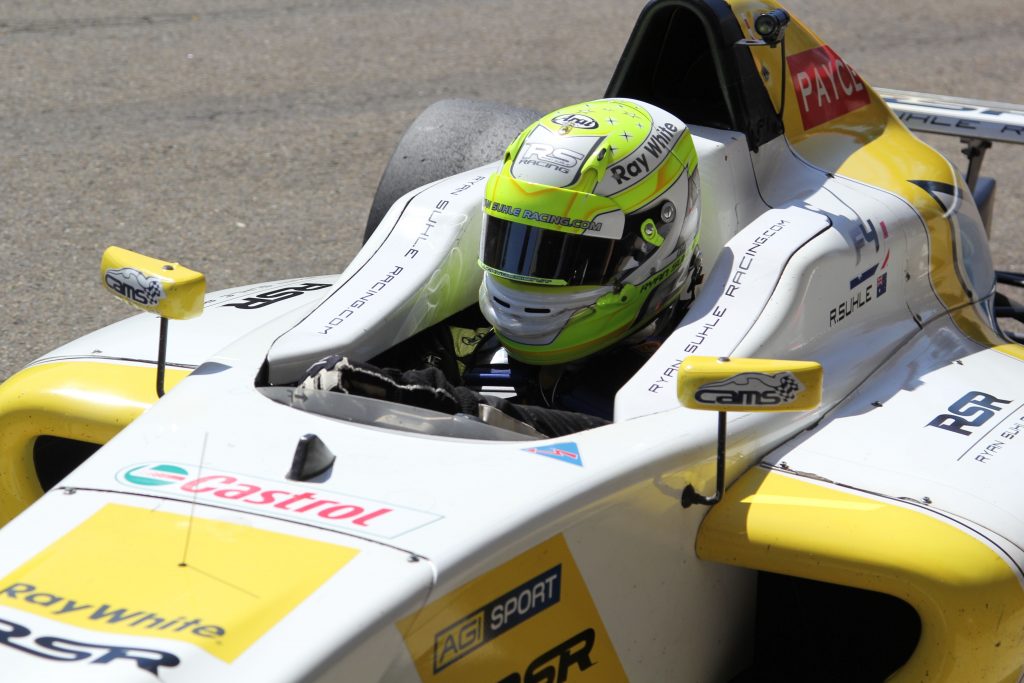 However Ryan got straight back into the zone and climbed back up to a fourth place finish.
Rookie driver Ardie Jonic managed his best ever race finish with a P7 in the final race of the weekend.
"It was kinda like a break through feeling after working so hard all weekend trying to get the car right and especially trying to get my driving right," Ardie said.

"So this gives me a lot of confidence going into New Zealand hopefully be at the same level that I am here at New Zealand or higher."
The young driver is using his rookie season as a massive learning curve making the jump from Speedway to circuit racing with the support of his grandfather.
That's meant a lot of time working with his engineer to fine-tune the car and adjust his driving to the different tracks of a national competition.
"Phillip Island was really fun because I was with the pack and it was only my first or second race," Ardie said.
"But Sydney is a tough track, it's hard on your arms and shoulders and neck because it's so high speed."
Jayden Ojeda goes into the final round with a healthy championship lead and knows he has a lot of people to thank for the opportunity.
"To get those 12 race wins is just unbelievable, I just can't thank all my sponsors enough. SMS Diesel OE Germany, Kaato, Sakura Filters, Engine Sensors Australia and Pure Traveller, my family and their massive support and Martin who does a lot behind the scenes, I wouldn't be here without them," Jayden smiled.
The championship heads across the ditch for the final round, stamping the passports to New Zealands Pukekohe track which means it's back to a level playing field for all the Australian drivers.
"I know myself and Ryan will be in at EurOz sometime in the next couple of weeks just getting a bit of sim practice because that is the best and closest thing we are going to get to racing on the actual track," Jayden said.
Ardie Jonic is also going to use the downtime between races to study the track through a simulator.
"I will be on my Xbox trying to figure out the track – I'll be playing Xbox for racing purposes only!"
The 2018 CAMS PAYCE Australian Formula 4 Championship will be decided at Pukekohe November 2-4.