PRESS RELEASE – Sizzling hot weekend extends championship lead.
It was a red hot weekend all round with the Queensland sun shining on some sizzling drivers and blistering car pace for AGI Sport.
Nick Rowe managed to extend his championship lead by close to 50 points after winning races one and three and finishing third in the reverse grid race two.
Sage Murdoch found his feet and played up the front of the field before an unfortunate race incident on Sunday dashed his Rookie of the Round hopes.
Zak Best showed some excellent early pace leading the practice rounds but unfortunately was unable to capitalise on it during the races.
Nick Rowe didn't put a foot wrong all weekend to consolidate his lead going into the penultimate round.
"Car has been mega straight out of the box, first, sceond and third in practice for AGI and then first, second and fifth I think in qualifying and just then (in race one) first and third so cars have been mega all weekend,' Nick said after the first race.
It was also a chance for AGI Sport's more junior drivers to shine. Sage Murdoch returned to the racetrack following a major roll-over at the Phillip Island round and showed a new level of competitiveness by qualifying third for races one and three.
The young Newcastle-based driver was excited to be back, "It feels great to finally get a podium finish, yesterday was good, got a P5 in practice 1, a P3 in practise 2 and a P2 in qualifying – so that was pretty good, cars feeling pretty fast," Sage said.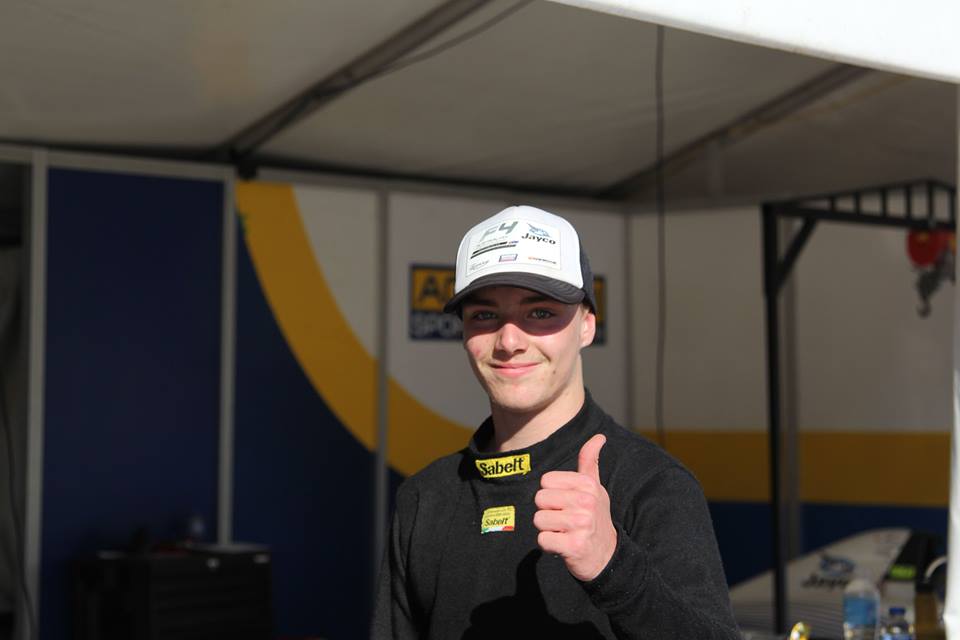 Murdoch was looking to build on his momentum with a P3 start in the reverse grid for Race Two.
"Shields got a good start and he got me I just tried to stay with him and it was good but then the safety car came out."
Unfortunately Sage lost a couple of positions in the laps following the restart but held his nerve to the end of the race to finish fifth.
"They definitely push you in the reverse grid, you're always checking your mirrors," Sage said.
Murdoch was feeling good into the final race of the weekend starting P3 again. The young rookie got a blistering start and jumped past Cameron Shields to take second position behind Nick Rowe but unfortunately his race came to an end a few laps later when he made contact with a dive-bombing Shields.
"He (Shields) got a bit desperate into Turn 4 wanting that position back and I got a bit unlucky. Copped a few problems in the front so that was it… it happens," Murdoch said.
Sage was circumspect over the incident and still counted the weekend as a win.
"This weekend I've really learnt you've gotta be up there, things are really tough up the front, compared to the back. You're getting really close, there can be no mistakes, if you make a mistake you're at the back pretty quick."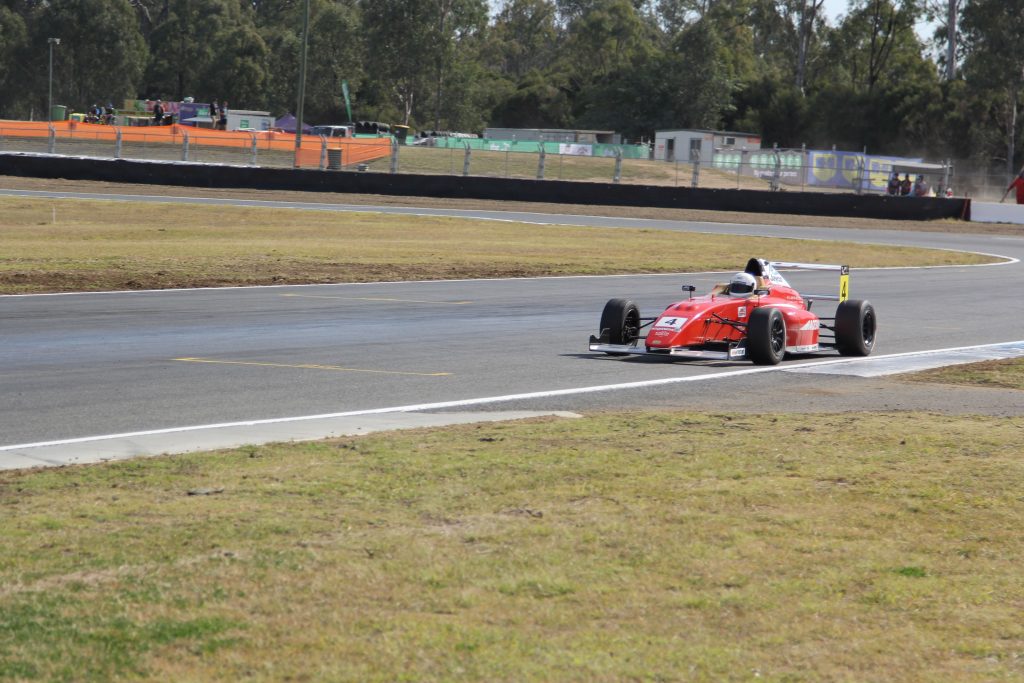 Zak Best also showed a big improvement setting the pace in both practice sessions.
"The car was really good in practice – it was just great, me and Rowie, there was nothing between us but then we went to qualifying and new tyre speed wasn't there, wasn't going as hard as I was in practice," Zak said.

The new tyre run proved difficult for the Benalla-based driver and he wasn't able replicate his practice pace into the rest of the weekend.
"Race 1 there was a big battle going on, not much room going on side-by-side with the wheels between each car. Went in the dirt a few times, it was just a hard race," Zak said.
Race Two was also a battle with Zak finishing behind team-mate Sage after struggling with some straight line speed.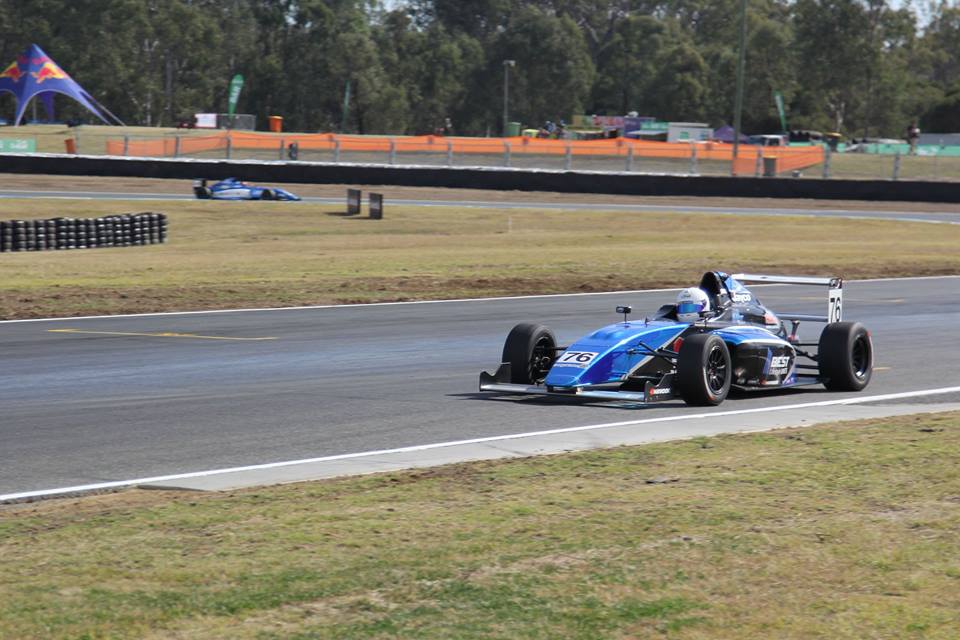 Sunday's race saw no improvement for Best after a few off-track excursions and some contact relegated him to the back of the pack.
"Race 3 was a disappointing end to the weekend, the car was still having vibration problems and straight line speed, and we had a bent wing too which didn't help and we just went backwards and backwards," Zak said.
"Plan is to get the car good for SMP and then try and get in the top three there."
Nick Rowe had an excellent start in race one to hold off all comers in the first race of the weekend. The reverse grid in race two was a tough race to overtake in but Nick managed to improve his P5 start to finish third.
All hopes were pinned on a great start in the final race on Sunday with Cameron Shields not far behind Rowe in the championship points.
"Cam's been getting mega starts all weekend so I knew I had to get a good start so I gave it a shot and yeah, we nailed the start, went side by side into Turn 1 and had the line and he had to back out and went off into the distance," Nick said.
"We've got a big lead in the championship now and looking forward to SMP."
AGI Sport returns to the penultimate round of the 2017 CAMS Jayco Australian Formula 4 Championship at Sydney Motorsport Park August 18 – 20.