PRESS RELEASE – Ojeda signs Formula 4 with AGI Sport
Multiple State & National Karting champion Jayden Ojeda has today confirmed he's signed with AGI Sport for a tilt at the CAMS Australian Formula 4 Championship in 2018.
Ojeda joins the series with plenty of open-wheeler experience having finished third in the National Formula Ford series in 2017 behind a driver he will be looking to beat this year, fellow Formula 4 contender Cameron Shields.
'AGI Sport has proven the team has the right ingredients to win championships.' Ojeda said.
"'After testing several times with AGI in 2017, I am very comfortable with the team and the car, and I am confident together we can achieve great results.'
The 18-year-old from Sydney is also highly decorated in the karting world winning his first state championship in 2010, then two state championships in 2013 and another two titles in 2014.
In 2014 Jayden was also crowned National Champion in one of the country's premier Karting series, CIK and taking overall victory in the Rotax Pro Tour (Junior Max) going on to represent Australia in the 2014 Rotax Max World Championships in Spain.
Jayden has also been part of the CAMS Elite Driver Program in 2014, 2015 and again in 2016.
The last couple of years have been spent in the Formula Ford National series where he has achieved numerous outright wins, podiums, pole positions, and lap records.
AGI Sport team principal Adam Gotch speaks highly of the Penrith-based teenager.
"We're looking forward to having Jayden in one of our cars for 2018, he's a level-headed and an incredibly skillful young driver who ticks all the boxes," Adam said.
'Jayden has come through the ranks of State & National level Karting and Formula Ford and has his eyes firmly set on a career as a professional driver, Formula 4 is the next logical step to help him get there." Adam said.
'It won't be easy though,' Adam added.
'I think 2018 will see a very strong field up the front in Formula 4, one of the best we've seen in the last four seasons of the category. We've had an unprecedented amount of interest in the team over the last six months and I think you will find it will be one of the most competitive seasons yet." Adam Gotch finished.
Jayden certainly feels he has what it takes to get to the top with his sights firmly set on a career as a professional driver with a win in the Formula 4 championship offering 12 of the 13 points needed for a V8 Supercar licence.
'I am excited to be taking the next step in my career in the leading open-wheel development category and I hope to be fighting at the front of the field in the Formula 4 championship in 2018,' Jayden said.
Jayden joined AGI Sport team mate Ryan Suhle (previously Zagame Autosport) at a test day at Sydney Motorpsort Park today (Thursday 25th January).
Suhle already has a year of Formula 4 under his belt having won the Rookie of the Year Award in 2017 with Zagame before signing with AGI Sport in early December.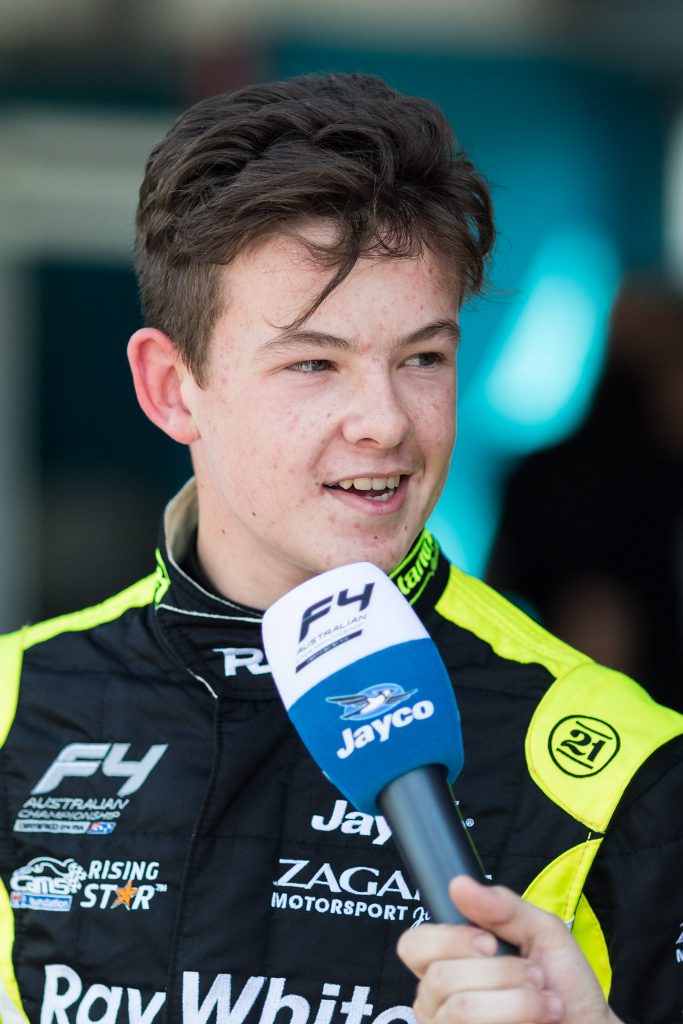 Both boys are looking forward to the first round of the Australian Formula 4 championship when it kicks off at the Supercars round at Symmons Plains, Tasmania on April 6-8.
More announcements from AGI Sport on its driver lineup for 2018 as we approach round 1 of the championship.
Jayden Ojeda 2018 Sponsors:
SMS diesel spares
CH Robinson
AMC Cylinder Heads
Sakura Filters Australia
OE Germany
Engine Sensors Australia
Stone Corporation
Martcom Marketing Services