PRESS RELEASE – Jimmy Vernon to drive Formula 4 with AGI Sport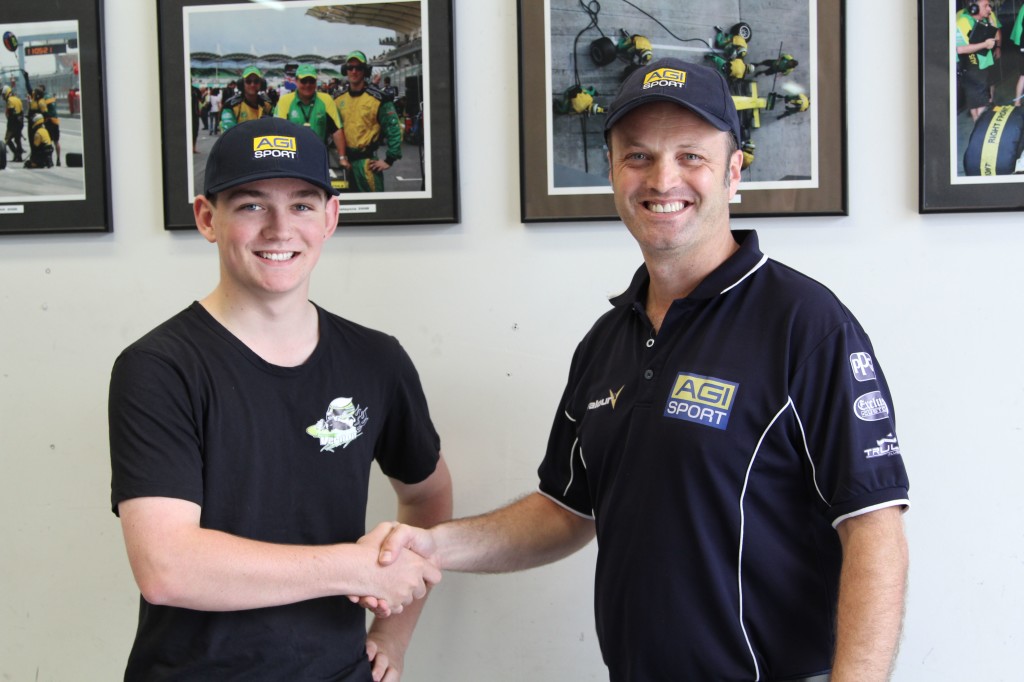 Driver Jimmy Vernon and AGI Sport Team Principal Adam Gotch
AGI Sport has signed 17 year old Jimmy Vernon as its first confirmed driver in the 2015 CAMS Australian Formula 4 Championship.
Jimmy has come up through the ranks of Junior Motocross and Karting, most recently competing in the 2014 Shannon's Nationals Formula Ford Series. In 2013, Jimmy was awarded the CAMS NSW 'Young Achiever of the Year'.
AGI Sport Team Principal Adam Gotch was enthusiastic about the deal, " To have a young driver of Jimmy's calibre come on board is just great. He's a good fit for this brand new series and the driver development pathway that it offers. Jimmy has experienced both the highs and lows of racing, he's got a level head on his shoulders and we are looking forward to working with him to get the best out of this new Formula 4 car and series".
Jimmy was also delighted, "I'm excited to work with a professional team such as AGI Sport. To compete in the first Australian Formula 4 championship will be the biggest step that I have taken in my career. I am confident that with the support from AGI Sport that we will be competitive. I just can't thank Toolforce Automotive Tool Sales enough for giving me such an amazing opportunity to help fulfill my dream of becoming a professional racing car driver."
Jimmy Vernon proved his fighting spirit when he jumped back into racing following a broken neck. The fracture to his C7 vertebrae was suffered during a heavy crash in a wet practice session at Winton Raceway in June 2014. After 3 months off, mostly spent in a full back and neck brace, Jimmy managed a top 5 finish on his return to National level Formula Ford in October this year.
Jimmy said, "My parents were pretty worried afterwards and said, 'mate, do you want to keep doing this?' but there was never any doubt. I love the sport and I really want to keep being part of it."
The Australian Formula 4 Championship will race for the first time at the Castrol Townsville 400 at Reid Park on July 10-12 2015. The new category will focus on driver development and be both nationally and internationally relevant.
The championship will receive significant television coverage as part of the 2015 V8 Supercars coverage on Channel 10 and Foxtel.