PRESS RELEASE – This one's for Johnny!
Nick Rowe has again extended his lead in the CAMS Jayco Australian Formula 4 Championship under stressful conditions after his grandfather suffered a medical episode whilst Nick was preparing for the first practice of the weekend.
John Fenton is Nick's number one fan travelling to every single Formula 4 round with his grandson and never missing a race. He suffered a cardiac arrest whilst the cars were on the dummy grid on Friday morning and had to be revived by race track paramedics before being taken to hospital.
Nick never missed a beat and proved his maturity by coming through to win the round and secure a strong lead going into the final races of the championship.
Nick was facing a strong battle with championship rival Cameron Shields who is very comfortable at the Sydney Motorsport Park track.
"We had a good qualifying session, just didn't maximise it on new tyres and qualified second," Nick said.
Starting from P2 in Race One Nick found it hard to get the jump on Shields at the start and settled in behind the MacDonald's driver while carnage ensued behind them.
The number 97 car also revealed a new livery with sponsor Australian Unity coming on board in the Australian Formula 4 championship.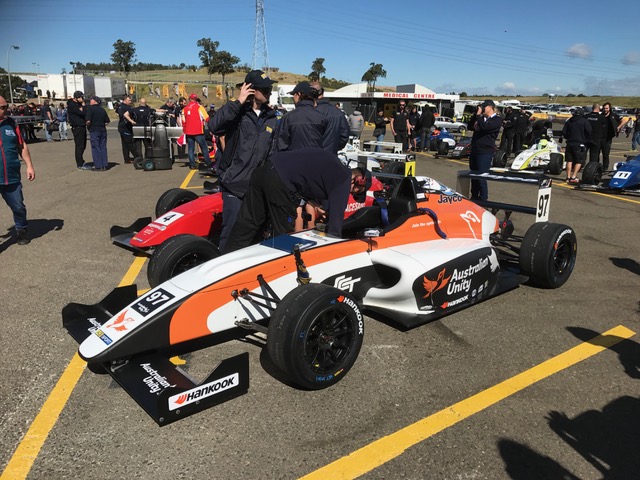 Cejn/AGI Sport driver Harley Haber was caught up in the crash at turn one and relegated to the back of the pack.
"Luckily no one collected me up so I pushed really hard from there," Harley said.
The young Sydney-based driver caught up with the pack again and put in some smooth overtakes and steady lap times to finish seventh.
"One of my best drives and recoveries of the season," Harley said.
Racesah/AGI Sport's Sage Murdoch proved his speed at the fast flowing Sydney track qualifying in fourth position and avoiding most of the trouble to finish fourth in race one.
The Newcastle driver wasn't so lucky in the reverse grid top five of race two despite starting second on the grid. Sage got caught up in some trouble at turn one and that resulted in a DNF.
"Unfortunately missed the start again and then I got taken out, that happens I guess, nothing much you can do about that," Sage said.
Zak Best of Best Racing had been testing at SMP and was looking forward to putting his experience into practice during the race weekend.
Zak managed to stay out of most of the trouble during the weekend but struggled with straight-line speed and couldn't find the power to pass.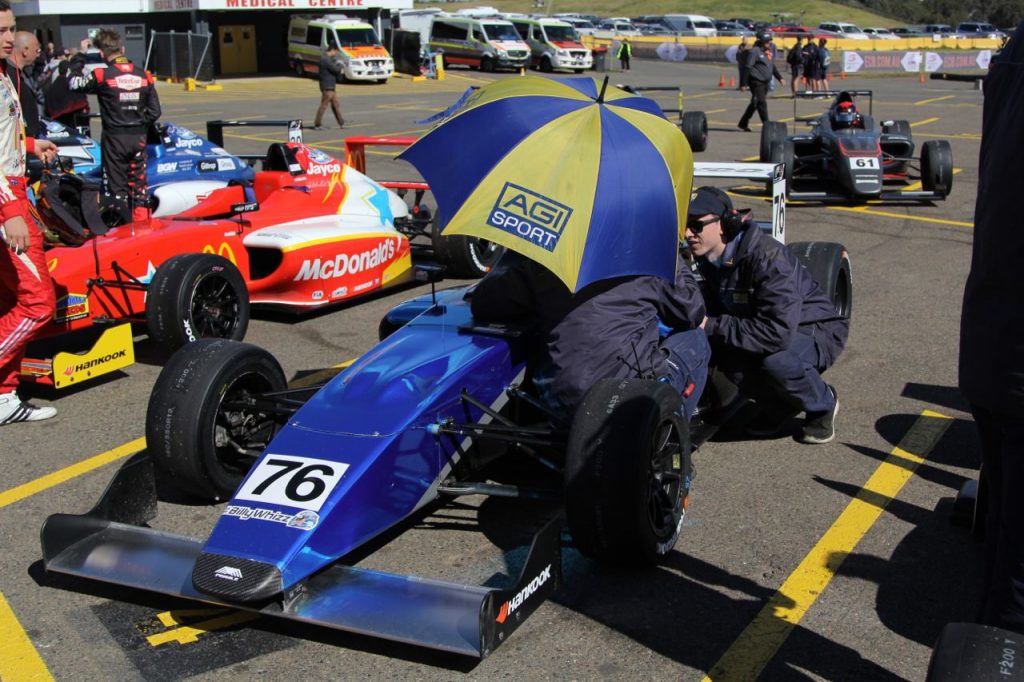 "Got off to a good start and got past a few cars into turn 2, stayed there for a while in 6th I think then a few cars went off. We just had no straight line speed, we were just a sitting duck in the straight," Zak said.
Race two didn't prove much better for the Benalla-based driver who finished seventh.
"We thought we solved the problem but we didn't. Still struggled with straight-line speed I was just fighting to stay with the cars in front of me," Zak said.
There were no such problems for Nick Rowe in race two. The reverse grid meant he started from fourth position right next to Cameron Shields in fifth.
Nick capitalised on his start to gain advantage over his rival jumping into second place by the first turn behind rookie driver Ryan Shule.
" It took me a few laps to get past Ryan and then put my head down and was able to get a two or three second lead and the car was awesome," Nick said.
Rival Cameron Shields soon jumped Suhle and the chase was on however Nick's lead proved too dominant and he took out the chequered flag.
Nick started second on the grid next to Shields in the final race of the weekend and launched the car straight into the lead after wheel spin relegated Shields to fourth place.
From there it was a text-book race for the Western Australian driver with a safety car period proving no advantage for his opponents.
"Got a bit of a gap and then there was a safety car which I was a bit sceptical about, so just put my head down and tried to get a gap while Cameron was still behind the other boys."
"Then got the gap again and he (Cameron Shields) couldn't really get it back and I can't thank the boys enough. Good championship lead now and I'll just keep my head down and try and finish the job off," Nick said.
The win was enough to hand Rowe the round and extend his championship lead by a further seven points to 52.
"On top of the world, this one's for Johnny though, had a bit of a debacle on Friday and it was hard to watch but he's still alive the old dog and he'll be at the Gold Coast no doubt. '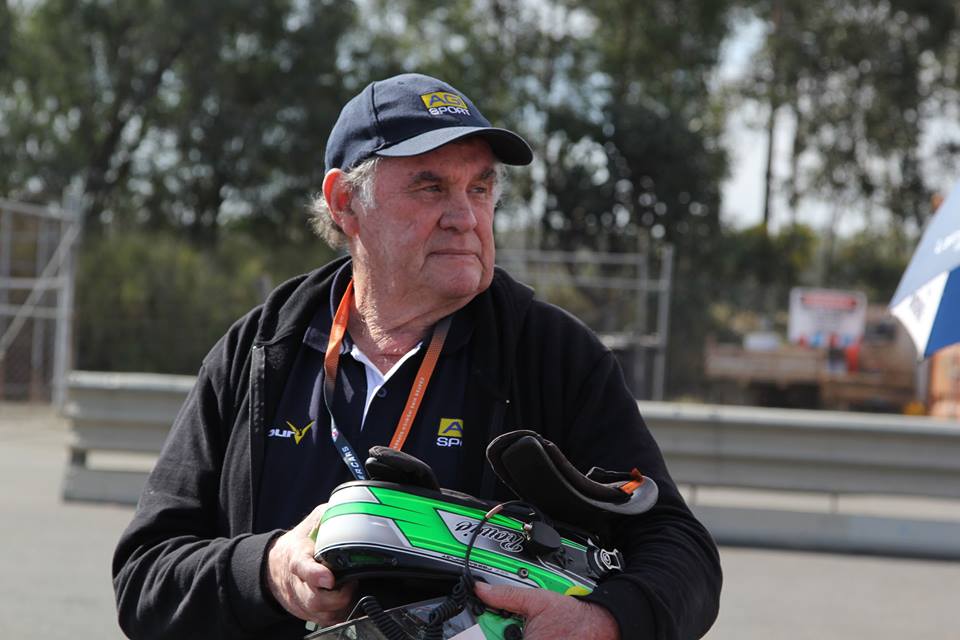 "Even if they say he can't fly he'll be there so I'm sure if we can get the job done. The cars been mega all year and if we can get the job done he wont be too far away," Nick said before heading off to the hospital to visit his grandfather.
Sage Murdoch ran fourth quickest times in the final race but unfortunately ended a lap down after a spin and couldn't quite catch the pack.
Zak Best struggled with speed but managed to avoid trouble to finish seventh while damage to Harley Haber's car from a previous race forced an early retirement.
AGI Sport now heads into the final round of the 2017 CAMS Jayco Australian Formula 4 with a healthy lead but anything can happen on an unforgiving street circuit.
The final round will take place October 20-22 on the Gold Coast.