PRESS RELEASE – Nick Rowe leading F4 Championship
Phillip Island is known as a driver's track and with good reason. This weekend the race leader didn't always win the race with a number of incidents and penalties deciding the round result and giving the championship advantage to AGI Sport's Nick Rowe.
The weekend proved challenging from the outset. Despite posting fast times in practice a couple of missed opportunities in qualifying relegated the AGI Sport drivers further back then usual for the opening race of the weekend.
With only four points between Nick Rowe and championship leader Liam Lawson from New Zealand every single race of the weekend was going to count in the points tally.
Nick Rowe started race one from P8 on a dry track and took every advantage he could to gain places eventually finishing just behind rival Liam Lawson.
"We come forward in the race to finish fourth and had some more battles out there with Tyler (Everingham) and a couple of moves outside of Honda and the one outside of Lukey Heights was awesome," Nick said.
Sage Murdoch was starting to have some great pace when a fuel pressure issue put his race to rest while Zak Best was coming to grips with putting his sectors together and finished further back then he would have liked.
Race 2 on the Saturday afternoon was a reverse grid for the top five. Nick Rowe started P2 and immediately jumped to the lead and pulled out a two second advantage.
The West Australian then put his head down and was making significant gains on the rest of the field when an incident between Ryan Suhle and Cameron Shields took both drivers off the track.
The hold-up cost Nick his gap and a controversial restart saw the AGI Sport team lodge a protest.
"Unfortunately there was a safety car and there was a bit of a debacle and I'm pretty sure Liam (Lawson) passed me before the start/finish line," said Nick.
Despite finishing third Nick managed to get enough points to jump ahead of championship leader Liam Lawson who copped a 5 second penalty for his restart misdemeanour while Ryan Suhle wore a hefty thirty second penalty for his move on Cameron Shields
The time penalties also propelled AGI Sport/Racesah driver Sage Murdoch to his best result yet with a handy fourth place.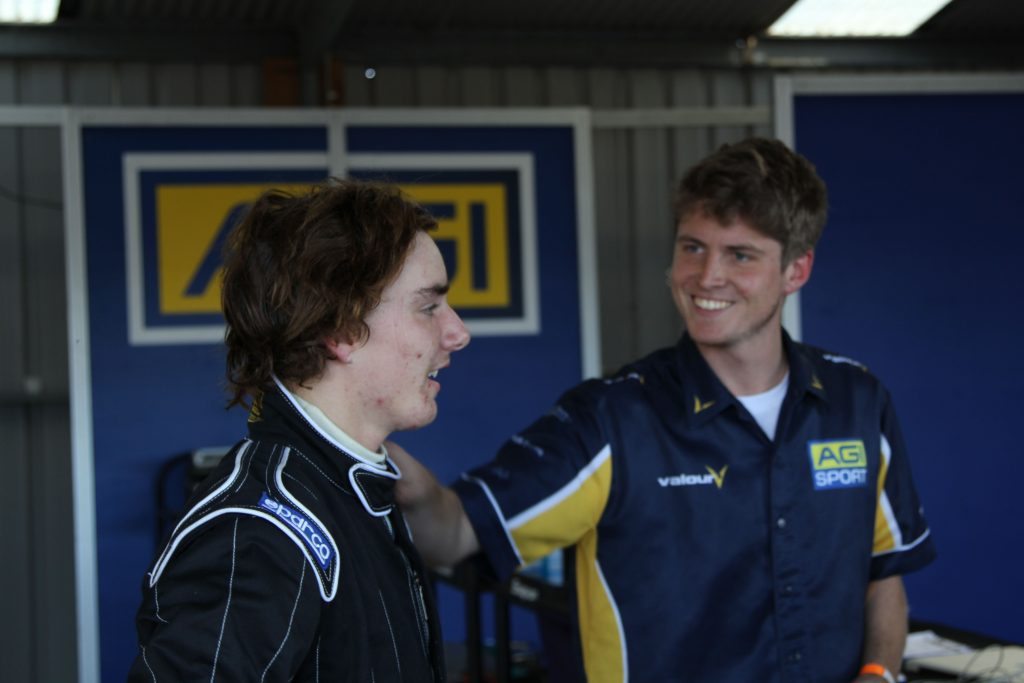 The young driver from Newcastle was happy with his result.
"I had some pace, I needed it at the start but I had it at the end so I just tried to get as fast as I could around the track and I got it at the end. "
"Phillip Island is tough, you've got to really keep pace through the corners and you can't really make a mistake because you're either into the rubber or just slow," Sage said.
AGI Sport drivers were picking up the pace with the cars proving first, second and fourth fastest on the track during race two with Best Industries Zakkery Best posting some of his fastest times of the weekend towards the end of the race.
Race three was marred by a huge shunt when Aaron Love slid across the grass and ended up taking Sage Murdoch off the track and shuttled him into a gravel trap.
"I thought I had passed Lovie but he just tagged me a little bit and I hit the gravel trap and I flipped," Sage said.
"It's just a race incident, there was nothing Lovie could do on the grass."
'I got a bit more experience in the car this weekend and more experience on the track and I'm finding a lot of confidence in the overtaking so I can bring that to the next one," Sage finished.
Nick Rowe also found the grass a few times as light rain made the track super-slippery into the safety car restart.
"I got a mega- restart got up to about third straight away and then I just broke on the white line and in the wet you never break on the white line."
'You live and you learn but we'll be right, we will be back again at the next round," Nick opined.
Race winner Liam Lawson was penalised 30 seconds for overtaking under yellow flags and relegated to last place giving Nick Rowe the championship lead.
The CAMS Jayco Australian Formula 4 championship will now take an eight week break before returning at Queensland Raceway in Ipswich on July 28-30.