PRESS RELEASE – Nick Filipetto wins on Formula 3 debut
The AGI Sport F3 Team kicked off its 2015 racing at Wakefield Park April 10-12. The Goulburn circuit played host to first round of the NSW Formula 3 State Championship.
New team driver Nick Filipetto made his debut behind the wheel of the F304 Dallara previously campaigned by Nathan Gotch. It was Nick's first race meeting in an 'Open Wheeler' after two years in the 'one-make' Hyundai Excel Championship.
Qualifying:
Nick showed immediate aptitude for 'wing and slicks' racing, over the two Qualifying sessions on Saturday morning he set the fastest time in both sessions to secure pole position for Race 1.
Race 1:
Filipetto lead into turn one of the first lap and was never headed over the 8 lap race, winning by a 5 second margin over the F301 Dallara of Aaron McClintock.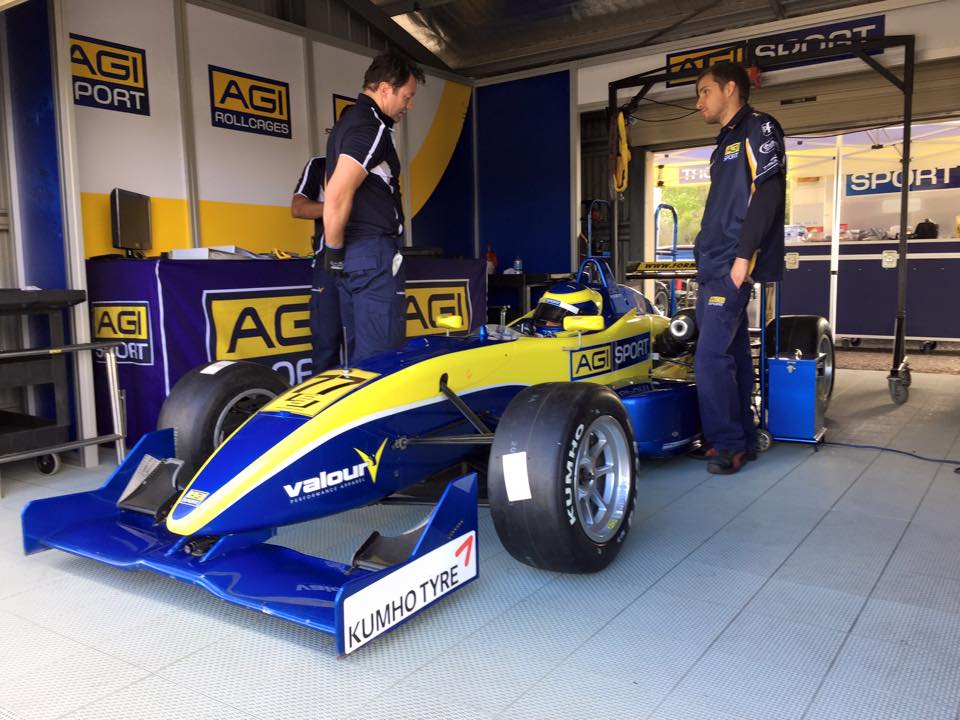 Race 2:
It was cracking Sunday morning race at Goulburn's Wakefield Park.
Aaron McClintock jumped pole winner Nick Filipetto at the start to lead the field for the first lap. Filipetto set about chasing down McClintock for the lead but had a high-speed spin while following the leader into turn 3. A quick recovery meant Nick would chase down McClintock and take the lead by the halfway point of the race with a pass out of turn 8.
Lapped traffic spiced up the action with Nick getting balked out of turn 9 and McClintock retaking the lead on the second last lap.
On the final lap Filipetto pulled off a brave move around the outside at turn 3 to re-take the lead and the victory
It was a magnificent drive from Nick in an incredibly exciting race from start to finish.
Race 3:
Filipetto lead the pack into turn one and started to pull a healthy gap from the first lap. A slight mistake on the run up to turn 3 early in the race meant a high-speed spin from the AGI Sport driver and a trip onto the outfield. Nick made a strong recovery from last position to take it back up to 5th by the chequered flag.
Race 4:
In another exciting race that showcased the bold racecraft he gained in the Excel Championship Nick made a decent getaway from 5th on the grid in the trophy race to be 3rd by the second lap. Within another 5 laps Filipetto had overtaken the fast-starting Greg Muddle.
A superb move up the inside of rival Aaron McClintock at turn 10 on the penultimate lap ensured Filipetto took the lead and the race win. It was a great way to finish off a very successful debut weekend for the new driver.
AGI Sport driver Nick Filipetto finished the weekend with 3 wins out of 4 races for Round 1 of the NSW F3 State Championship.