AGI Sport announces two drivers for the 2017 Formula 4 season
AGI Sport has signed its first two drivers for the 2017 CAMS Jayco Australian Formula 4 Championship.
Harley Haber has spent the past two seasons in Aussie Racing Cars with a podium finish on the challenging Clipsal street circuit in Adelaide earlier this year.
The 17-year-old also spent two years in junior national light karting with an impressive 21 pole positions and 16 wins from 50 starts.
Harley's ultimate goal is V8 Supercars, the Sydney-sider says Formula 4 provides him with the best opportunity to get there.
"Working with a team and being in a professional environment are so important. I'm looking forward to getting used to slicks and aero as well", Haber said.
"I did the test day at Wodonga with CAMS and I love the mechanical grip the car provides along with the brakes. It really rewards smooth and precise driving and I love that.
"I don't qualify as a rookie unfortunately but I've got my heart set on a Top 5 finish or at least one podium if I can".
The promising youngster was also able to gain major backing for the season from long-term sponsor, CEJN (pronounced sane).
"I wouldn't be in a position to make the jump to Formula 4 without the on-going support of my major sponsor CEJN which make hydraulic quick connect solutions so huge thanks to them", Haber said.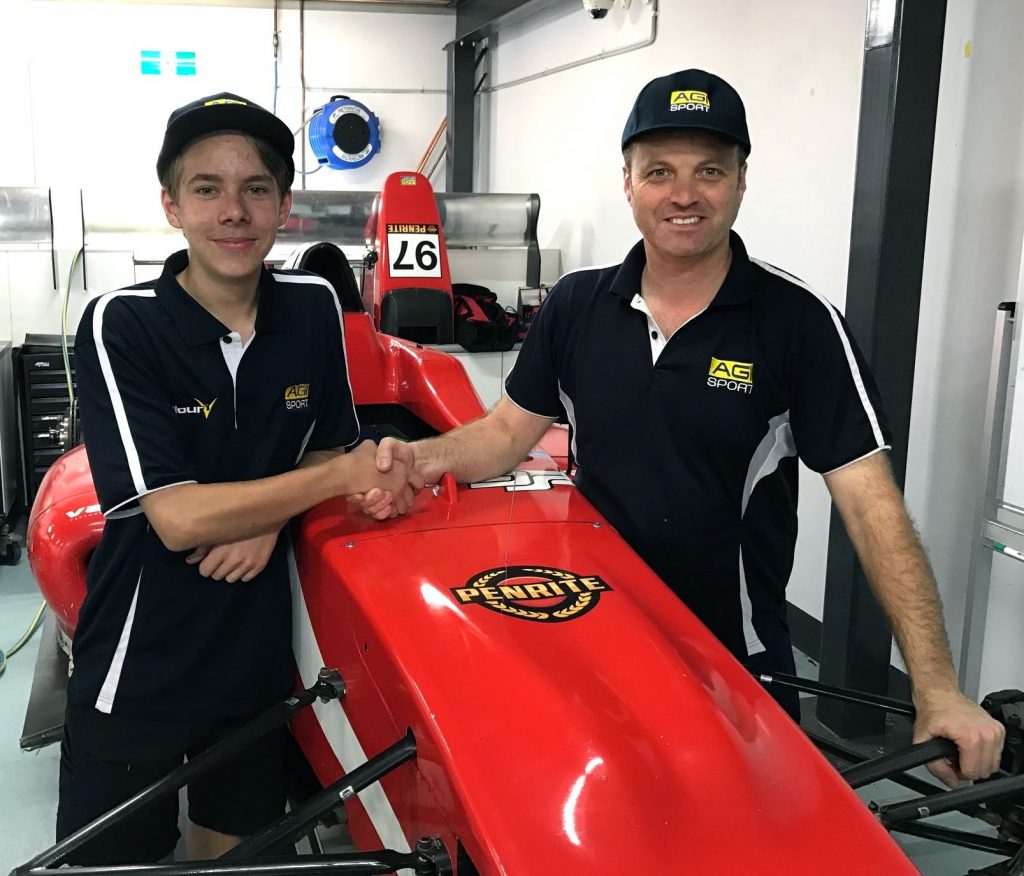 Newcastle-based Sage Murdoch is looking forward to his first drive in the car on an upcoming test day in late November.
The 14-year-old is getting a strong jump on his driving career becoming eligible to race just one month before the start of the 2017 season.
The youngster spent 2 years in NSW Karting before graduating to Formula Vee in 2016. He says he has chosen Formula 4 because it gives him the best chance to further his career.
"It's been my dream ever since I started karting to have a career in open wheeler racing, my ultimate goal is Formula 1', Murdoch said.
"Having experienced most of a year in Formula Vee experiencing the excitement of open wheeler racing only reinforced my passion.
"When the opportunity came along to move into Formula 4 I decided to make a long-term commitment to make my dreams reality.
"My major sponsor for the season will be Earth Surveying so a big thanks to them and I'm looking forward to announcing more sponsors soon. I am really excited to part of the AGI team for 2017", Sage said.
AGI Sport Team Principal Adam Gotch was pleased with the signings saying there had been many young drivers on the phone.
"There's certainly been a huge increase in interest around Formula 4 this season particularly the last few months as we look to lock in drivers for 2017", Gotch said.
"The 2015 F4 drivers that ventured overseas proved that they could mix it with the best in Europe and the USA which has been great to see.
"The new for 2017 Supercar license points system has also been a great initiative. It gives kids a clear pathway for a professional driving career and it really brings Australian motorsport in line with the rest of the world.
"Australian Formula 4 is really cementing itself as an outstanding opportunity to progress into a professional career as a driver while CAMS and the teams have continued their push to make the series more affordable.
"We look forward to working with some of the most promising young drivers in the country in 2017 and help them on the road to become the next Whincup or Ricciardo", he continued.
2017 will be AGI Sports third season in Formula 4 having been a part of the series since its inception in 2015. AGI Sport won Rookie of the Year with Will Brown in 2015 and helped Nick Rowe to second place in the 2016 championship. The team plans on running a minimum of four drivers in the 2017 season and will be announcing further signings shortly.